Soodus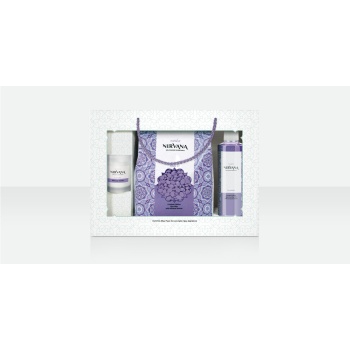 Zoom
Gift pack for SPA depilation, Lavendel
The SPA line "Nirvana" is formulated in two different versions with sensual Lavender aroma.
The exquisite perfume slowly fills the beauty parlour, bringing positive emotions and helping to relax.






Pre-wax oil Lavender natural oil, made on the basis of herbal ingredients,
is gently preparing the skin for the waxing procedure. Guarantees easy wax application.
It nourishes and regenerates the skin, leaving it silky and well-groomed after the hair removal procedure.
Due to the oil content, it has antiseptic, healing and relaxing properties.
The calming aroma turns waxing into an exquisite SPA treatment.
Product forms: 250 m


Premium SPA Hot Film Wax Lavender.
An innovative synthetic wax formulation with Lavender oil for aromatic SPA waxing procedure.
The wax is created to be used with pre-waxing oil specifically to remove hair in delicate areas (armpits, bikini)
and can be also used on bigger areas (legs, arm, back).
The wax effectively removes short previously shaved hairs, and the aromatic oil protects,
moisturizes delicate skin during the procedure and creates a relaxing effect.
Warmed up wax has a pronounced aroma, it enhances the caring oil effect,
which ensures the smoothness and softness of the skin after the waxing procedure.
Product forms: granules sack 1000 g

Aromatic candle Lavender
Aromatic candle "Nirvana" is made of solid natural oil. When heated, the candle gradually melts and turns into a warm liquid oil with the amazing aroma Lavender. Exquisite fragrance slowly fills the beauty parlor, evoking positive emotions and helping to relax. After the hair removal, the melted oil is applied to the skin with light massage movements. The oil silky texture gently coats the skin, getting absorbed quickly, perfectly moisturise it, leaving a pleasant aroma on the skin.
Product forms: 50 ml